Course Begins Spring 2018!
Pre Register Now For Early Enrollment Eligibility
We first introduced the concept of Aquatic Conditioning in our widely popular blog post 8 Reasons To Exercise Your Dog In A Pool Most people have heard of aquatic (or aqua) therapy. Something primarily used for low impact, low intensity water based exercise. Often for sick, senior or injured dog's and people. The primary focus of Aquatic Conditioning is optimum health and improved athletic performance.
Resistance, Assistance (buoyancy), and Instability make aquatic conditioning so unique and effective and no other conditioning platform can provide all three. Developed under the guidance of Eve Pugh DVM, CVA, CCRP and taught by Martial ARFS owner Jeris Pugh, this course will teach you  how to use your pool, a lake, or the ocean to improve your dog's health or performance, like you never thought possible.
---
Learn The Elements Of Aquatic Conditioning:
Resistance: How the water efficiently strengths muscles during any motion.
Assistance: How water buoyancy makes some movement easier, but other movements harder.
Instability: How the water surface provides constant movement even if your dog is stable.
---
Learn The Categories Of Aquatic Conditioning:
Movement: Aquatic conditioning movement exercises build Strength, Coordination, and drive.
Balance: Aquatic conditioning balance exercise cannot be duplicated on land, and are safe should your dog fall.
Jump: Conditioning jump training builds power by requiring push through the water, but reduces impact when landing.
---
Learn Over 30 Different Aquatic Conditioning Exercises:
Movement Exercises:


1. Underwater Platform Movement Exercises: Including underwater cavaletti's, backward and lateral walking, hindlimb 360's, and more!


2. In Water Movement Exercises: Including spinning, turning, and weaving, and more!

Balance Exercises:


1. Balance/Underwater Platform Exercises: Reverse Sit To Stand, push ups, and more!


2. On Water Balance Exercises: Lateral & Circular Weight Shifts, Sit/Down to Stand, spinning, turning, and more!

Jump Exercises:


1. Underwater Platform Exercises: Straight, double, and diagonal jumps, 360 jumps, jumps for height and distance, and more!


2. In Water Jump Exercises: Swim to jumps, toy jumps and backside jumps, and more!
Aquatic Conditioning: Jump Drills
Aquatic Conditioning platform jumping increases power as a result of your dog pushing through the resistance of the water. As well, the buoyancy helps to minimize the concussive forces of landing after a jump. In this example, Rue builds from one, to two, to three jumps in a row. Multiple jumps provide a greater challenge and great conditioning results.
Register To Receive Early Enrollment Pricing Eligibility
Click below to sign up!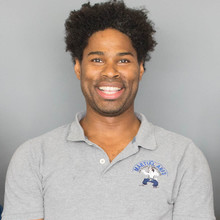 The Martial ARFS Owner
Jeris Pugh
Jeris Pugh has been studying canine behavior through practice, publications and live seminars for the past 10 years. He's attended lectures from veterinary behavior experts like Dr. Ian Dunbar, founder of Associations of Pet Dog Trainers (APDT) and Dr. Lynn Seibert, President of The American Veterinary Society of Animal Behavior (AVSAB). After years of training dogs privately for obedience and competing in disc dog competitions throughout the Northeast, he realized there was something lacking in the dog training world. He set out to create a program that would not only improve dog's behavior, but give them an outlet for their excess energy, and improve their ability to perform their sport or maintain an active life. His experiences beyond the canine world that were instrumental in achieving that goal.He utilized his experience in teaching and training in the martial arts to combine the concepts of positive reinforcment dog training and the physical outlet that comes along with a martial arts class in order to create the original concept for The Martial ARFS. Under the guidance of his wife, Eve Pugh DVM CVA, CCRP, he used the principles he learned performing and providing functional training for human athletes and substituted canine rehabilitative exercises, canine balance, coordination and body awareness drills, and canine sports activities in order to create functional fitness training programs. However, a one of kind dog training program is only as beneficial as someone's ability to reach people with it. So in 2013, he open the first Martial ARFS facility on Long Island NY (Just 20 minutes outside NYC). Because of this dense population of the NYC metro area The Martial ARFS has become a high volume training center with as many as 60 new dogs per month. As a result, over the past 4 years The Martial ARFS has become the center piece for improving health, behavior or just a fun place for dog owners and their dogs.  The success Martial ARFS  has enabled Jeris to worked with a number of veterinarians across Long Island and NYC to provide programs for their specific clients. Countless General Practitioners, as well as specialist in Surgery, Neurology  and even Oncology have sent their clients to The Martial ARFS for general fitness, conditioning, or weight loss. To continue the process of bringing The Martial ARFS to more and more dog owners, Jeris is now expanding The Martial ARFS brand with additional facilities and online training so that people throughout the US and the world will be able to benefit from The Martial ARFSHe, along with The Martial ARFS has been featured in numerous articles from, PetMD, Dogster, The I Love Dogs Site, Dog ID's.com, and Natural Awakenings with articles on canine fitness, behavior, and the concept of The Martial ARFS itself. In addition, his canine fitness blog averages almost 25,000 views per year.
Early Enrollment Begins Soon!!
Sign Up To Receive Early Enrollment Pricing Notifications