Improve Your Dog's Health & Behavior
Obedience training alone is not enough to have a healthy and happy pet. By incorporating physical activity , we are able to add fun and exciting mental challenges to traditional dog training. This course is part of one of our foundation classes taught in The Martial ARFS Facilities. The focus is to provide both a sound obedience class combined with some of the necessary physical activity that dogs need. 
The obedience commands of this course are based on a basic foundation of what a well behaved dog should be. Sit, Stay, Come, Down, Place, Off, Leave It, are taught in a manner that provides a functionally obedient dog.  However, the presence of the balance equipment provides a mental challenge to these obedience commands that even the most obedient dog will find difficult. 
As well, the balance equipment provides a level of fitness not seen in your typical obedience program and the benefits are numerous. Balance, body awareness, coordination, focus, strength training all help improve your dog's quality of life. You'll see the results from the physical activity that burns off energy and the focus that it builds for dogs that need to improve behavior. 
This course features over 15 video lessons and provides students direct access to the course instructor through Q & A discussion forums dedicated to each lesson. You'll have access to all the material immediately and the convenience of learning at you're own pace over a 6 month period while still having access to your instructor the entire time.
Equipment Needed: Two Balance Discs (balance pads, or donuts) Two Donut Holders (Optional) One Donut or Balance Disc For Small Dogs. Other Possible equipment combination include two K9 FITBones, or One FITBones and Two Pawpods
---
Work 7 Different Obedience Commands 
Behavior Balance "Place" & "Off":
 Because the balance equipment requires your dog to get on and off of the discs, there's almost no better scenario to teach them the "Place" command and, when you're done, the "Off" command. Once learned using the equipment, these commands become practical in any situation.

Behavior Balance "Sit":
 

   This basic command becomes a challenge for even the most obedient dog when using the balance equipment. Stabilizing the balance disc while shifting weight back to perform a "Sit" is one of the most difficult moves your dog can do. Once generalized, your dog will sit even in the most challenging situations

Behavior Balance "Down":
 With forelimbs and hindlimbs on different balance discs, this makes a basic obedience behavior a whole body exercise. Performing the "Down" while on balance discs will ensure your dog will be both obedience and strong.

Behavior Balance "Stay": Whether it is a "Sit Stay" or a "Stand Stay", a "Stay" has never been so physically active. This is the perfect way to provide activity for your dog when otherwise they'd be doing nothing physical, even if they were working on their obedience.  
Behavior Balance "Come":
 The balance equipment creates a great stationary place to work recalls with your dog. Because they're not moving around you control the distance at which you can practice calling your dog. Long recalls, short recalls it's up to you, they're not moving around so it only gets challenging when you're ready to make it more challenging.

Behavior Balance "Leave It" Using the balance equipment to teach the "leave it" command makes it easier and more engaging than in any other situation. You'll be amazed by how quickly your dog picks up on what you want after just a few tries.
---
Learn Conditioning Exercises For 3 Different Areas:   
Forelimb: Exercises that target the forelimbs can help prevent injuries to the shoulder while maintaining a balanced approach to activity.

Hindlimb: Exercises targeting the hindlimbs can help prevent injuries associated with rigorous activities or keep hips strong throughout life.
Core: Exercises that target the core strengthen muscles that help support the spine, as well as improve your dog's to performance in their sport of other activity.

Behavior, Balance, Fitness & Focus
Balance Disc Training With The "Sit" Command
Practicing commands like "sit" and "stand" while on an unstable platform will improve your dog's obedience while they're engaged in the physical act of trying to maintain their balance when performing the behaviors.
5 star rating
I Appreciated the Behavior, Balance, Fitness & Focus ...
Diana Bistagne
This class is really great! Everything Jeris teaches is so clear and easy to follow. The information was also very valuable in helping me to understand bette...
Read More
This class is really great! Everything Jeris teaches is so clear and easy to follow. The information was also very valuable in helping me to understand better ways to work with my dogs so I can strengthen and challenge them is a manner is safe and beneficial. I also really appreciated all the foundation work before working the exercises. It is very important for safety and for increasing my dog's awareness and my awareness of what he is doing with the equipment before we actually perform the exercises. I am looking forward to the next class!
Read Less
5 star rating
Great title; fits the content of the course
Andrea Davis
Loved this course. Excellent demos, explanations of exercises, and progressions/problem solving tips (RUE is super cute too!!) A couple of things I would c...
Read More
Loved this course. Excellent demos, explanations of exercises, and progressions/problem solving tips (RUE is super cute too!!) A couple of things I would change: I have taken other online courses and have had access to the course for 1 year - I ask that you consider doing the same as I like to review from time to time, but also it would encourage me to buy more courses being that I could take my time with them. (I probably will anyway... just sayin' it would be really nice to have access longer ;) ) Another thing which is totally common/mainstream and not meant as negative feedback at all, is the use of the word 'command'. Myself, along with many others in positive reinforcement circles have exchanged this word for 'cue'; the connotation is more fitting for bond-building, team-work, positive methods, etc... Anyway, thanks so much for offering these courses
Read Less
Let's get started!
Learn how to combine obedience with exercise for a happy health pet!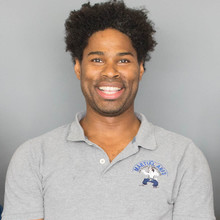 The Martial ARFS Owner
Jeris Pugh
Jeris Pugh has been studying canine behavior through practice, publications and live seminars for the past 15 years. He's attended lectures from veterinary behavior experts like Dr. Ian Dunbar, founder of Associations of Pet Dog Trainers (APDT) and Dr. Lynn Seibert, President of The American Veterinary Society of Animal Behavior (AVSAB).  After years of training dogs privately for obedience and competing in disc dog competitions throughout the Northeast, he realized there was something lacking in the dog training world. He set out to create a program that would not only improve dog's behavior, but give them an outlet for their excess energy, and improve their ability to perform their sport or maintain an active life. His experiences beyond the canine world that were instrumental in achieving that goal.He utilized his experience in teaching and training in the martial arts to combine the concepts of positive reinforcement dog training and the physical outlet that comes along with a martial arts class in order to create the original concept for The Martial ARFS. Under the guidance of his partner, Eve Pugh DVM CVA, CCRP, he used the principles he learned performing and providing functional training for human athletes and substituted canine rehabilitative exercises, canine balance, coordination and body awareness drills, and canine sports activities in order to create functional fitness training programs. However, a one of kind dog training program is only as beneficial as someone's ability to reach people with it. So in 2013, he open the first Martial ARFS facility on Long Island NY (Just 20 minutes outside NYC). Because of this dense population of the NYC metro area The Martial ARFS has become a high volume training center with as many as 60 new dogs per month. As a result, over the past 9 years The Martial ARFS has become the center piece for improving health, behavior or just a fun place for dog owners and their dogs.   The success Martial ARFS  has enabled Jeris to worked with a number of veterinarians across Long Island and NYC to provide programs for their specific clients. Countless General Practitioners, as well as specialist in Surgery, Neurology  and even Oncology have sent their clients to The Martial ARFS for general fitness, conditioning, or weight loss. To continue the process of bringing The Martial ARFS to more and more dog owners, Jeris is now expanding The Martial ARFS brand with additional facilities and online training so that people throughout the US and the world will be able to benefit from The Martial ARFSHe, along with The Martial ARFS has been featured in numerous articles from, PetMD, Dogster, The I Love Dogs Site, Dog ID's.com, and Natural Awakenings with articles on canine fitness, behavior, and the concept of The Martial ARFS itself.
Reserve Your Spot Today!
Click below to sign up!