Improve Your Dog's Fitness, Performance, & Behavior, Or Just Have Fun!
No other dog training facility offers anything like our K9 TreadSpin™ class. Now we're bringing this amazing class to our online clients as well.  Separated into three levels, and whether you're looking to condition your canine athlete or exercising your canine companion, these courses will improve every aspect of your dog's physical health and ability.  

This level 3 K9 treadmill course continues from Treadmill Conditioning, Coordination, & Behavior Level 2
by adding more advanced lateral limb isolation, coordination, and jump drills along with an advanced real time on demand treadmill class to follow along with your dog. When you're finished with our Level 3 course your dog will capable of handling any type of exercise while working on the treadmill no matter physical challenging it may be. It is at this point they reap the benefits of treadmill training and achieve optimum performance, health or behavior. 
However, continued practice is paramount. In addition to reviewing and working the each level course that you've already done, we will be releasing addition on demand classes that combine all the skills, exercises, and behaviors. These classes are sure to keep your dog in top shape and performing at a high level. If you don't compete, they're sure to provide challenging actives for your dog on cold, rainy or other indoor days.

As always any treadmill will do. Always keeping in mind dog treadmills may add a variety of advantages that we'll go over in this course, it doesn't mean you can't use the old dusty treadmill you bought for yourself when you thought you were going to get into shape for that one New Year's resolution.

This is the premier class for physical activity for your performance, active companion, or even obedience dog.

This course is suitable for dogs ages 12-18 month and older. It features 15 video lessons plus our one of kind real time 40 minute on demand Level 3 TreadSpin™ class for you to take with your dog whenever you'd like. It also provides students with direct access to the course instructor through Q & A discussion forums dedicated to each lesson. You'll have access to all the material immediately and the convenience of learning at your own pace over a 6 month period while still having access to your instructor the entire time.



**You Must Complete Level 1 Prior To Be Able To Purchase This Course.**

 


---
Review Treadmill Basics
Even though you've taken our two previous courses, 
it's still always good to review the basics.

Safety:
 There's nothing more important than the safety of your dog whenever you're working with your dog, especially when you using a mechanical device like the treadmill. You're learning how to keep your dog safe on the treadmill in general, but also when performing more complicated exercises with additional equipment.



Getting On The Treadmill:


   From stepping on the treadmill to jumping on from the side over a bar. Whether you're a beginner or advanced the first step of  getting on the treadmill can be a challenging activity and even dangerous activity if not done properly. 
 
Proper Speed:
  Every dog has a natural walking speed that depends on size, breed or structure. Matching the treadmill to your dog's walking speed makes it easier for your dog to get comfortable and perform more complex moves and exercises.


Trotting: Trotting is not just great exercise for your dog, it's also a great way to achieve balanced muscle engagement across all four limbs. Though most people only go as far as trotting their dog while on the treadmill, for this class trotting is just the beginning.

---
Advanced Coordination

Advanced coordination drills increase the challenge for your dog while working on the treadmill. If your dog is already comfortable working on a treadmill this is when it really becomes challenging for them.

"Sit Pretty":  As if this move wasn't already hard enough! The backward movement of the treadmill against your dog's lower body causes your dog's upper body to shift forward. Your dog has to fight that natural tendency to shift forward with stronger contractions of the muscles in their spine that help them stay upright. 


---
Lateral Limb Isolation & Coordination:   
Limb isolation and advanced coordination drills increase the challenge for your dog while working on the treadmill. Dog's a very strong linearly. Easily demonstrated by their ability to run and jump. However, from side to side, or laterally, dogs are very weak. Strengthening the muscles that move your dog's limbs laterally can improve performance but more importantly prevent injury.

Lateral

Hindlimb

   Isolation:   Lateral Hindlimb isolation strengthens the muscles that adduct and abduct the hindlimbs. This is extremely important for your dog's hindlimbs as the strong adductors and abductors can help stabilize the knee and the help in order to help prevent injury in sport and life.


Lateral Forelimb Isolation:  Lateral forelimb isolation strengthens the muscles that adduct and abduct the forelimb as well. Though the forelimbs are as prone to injury as the hind, conditions like Medial Shoulder Instability are a reality. Balancing the strength of adduction with action of abduction such as when doing weave poles, may help prevent chronic injuries like MSI.
 
"Lateral Limb Isolation Freestyle"  Though we've done limb isolation freestyle before, this will no doubt be the hardest. Keeping your dog perpendicular to the treadmill at all times, while working the fore and the hindlimbs, in both directions, while facing either side of the treadmill, will be as hard for you to keep track which direction you're going as it will be for your dog.

---
Jump Drills:   
As with everything about working on the treadmill, safety is extremely important when jumping onto the treadmill. Especially if you try to progress your dog too quickly.

Forward Jumping:

  

 

Forward jumping onto the treadmill is the easiest  jump for your dog to get on the treadmill and great way to get your dog prepared for the unpredictable nature of sport and life. Because they're jumping onto a moving platform, they have to immediately adjust to the surface in which they're landing. This can be similar to a number of sport where platforms and obstacles aren't as steady as they should be. It requires tremendous focus and reaction time. Two things that are paramount when performing sport or just living an active canine lifestyle.


Side Jumping On:  Though technically a more difficult jump as far as coordination is concerned, it's not quite as concussive because your dog won't be running and jumping toward the treadmill as the belt is moving toward your dog. However, as noted, dogs are not very strong laterally so this is overall a more difficult exercise.


Side Jumping Off:   This can be the least concussive of all the treadmill jumps, as well as the easiest. Most dogs will do this without any help at all, just because they don't want to be on the treadmill anymore. We will increase the challange and "training" aspect to jumping off the treadmill by adding a jump bar.
 
---
K9 TreadSpin™ Level 3 Class:   

Filmed and edited so you can participate in real This course comes with 2 great classes that are filmed and edited for so that you can participate in real time. They are great for active companions or sporting dogs looking to improve athletic performance while helping to prevent the injuries associated with sport and life.
Lateral Isolation & Conditioning:  This one of kind treadmill class improves limb strength and awareness while improving cardiovascular endurance. It's a great for high energy or sport dogs looking to improve performance and prevent injury.

Jumping Onto The Treadmill
Forward jumping onto the treadmill is the easiest  jump for your dog to get on the treadmill and great way to get your dog prepared for the unpredictable nature of sport and life. Because they're jumping onto a moving platform, they have to immediately adjust to the surface in which they're landing. It requires tremendous focus and reaction time. A necessary skill when performing sport or just living an active canine lifestyle.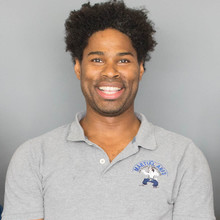 The Martial ARFS Owner
Jeris Pugh
Jeris Pugh has been studying canine behavior through practice, publications and live seminars for the past 10 years. He's attended lectures from veterinary behavior experts like Dr. Ian Dunbar, founder of Associations of Pet Dog Trainers (APDT) and Dr. Lynn Seibert, President of The American Veterinary Society of Animal Behavior (AVSAB). After years of training dogs privately for obedience and competing in disc dog competitions throughout the Northeast, he realized there was something lacking in the dog training world. He set out to create a program that would not only improve dog's behavior, but give them an outlet for their excess energy, and improve their ability to perform their sport or maintain an active life. His experiences beyond the canine world that were instrumental in achieving that goal.He utilized his experience in teaching and training in the martial arts to combine the concepts of positive reinforcment dog training and the physical outlet that comes along with a martial arts class in order to create the original concept for The Martial ARFS. Under the guidance of his wife, Eve Pugh DVM CVA, CCRP, he used the principles he learned performing and providing functional training for human athletes and substituted canine rehabilitative exercises, canine balance, coordination and body awareness drills, and canine sports activities in order to create functional fitness training programs. However, a one of kind dog training program is only as beneficial as someone's ability to reach people with it. So in 2013, he open the first Martial ARFS facility on Long Island NY (Just 20 minutes outside NYC). Because of this dense population of the NYC metro area The Martial ARFS has become a high volume training center with as many as 60 new dogs per month. As a result, over the past 4 years The Martial ARFS has become the center piece for improving health, behavior or just a fun place for dog owners and their dogs.  The success Martial ARFS  has enabled Jeris to worked with a number of veterinarians across Long Island and NYC to provide programs for their specific clients. Countless General Practitioners, as well as specialist in Surgery, Neurology  and even Oncology have sent their clients to The Martial ARFS for general fitness, conditioning, or weight loss. To continue the process of bringing The Martial ARFS to more and more dog owners, Jeris is now expanding The Martial ARFS brand with additional facilities and online training so that people throughout the US and the world will be able to benefit from The Martial ARFSHe, along with The Martial ARFS has been featured in numerous articles from, PetMD, Dogster, The I Love Dogs Site, Dog ID's.com, and Natural Awakenings with articles on canine fitness, behavior, and the concept of The Martial ARFS itself. In addition, his canine fitness blog averages almost 25,000 views per year.
Reserve Your Spot Today & Save!
Click below to sign up!
Buy All 3 Levels and Save!
$99.98

$99.98

K9 TreadSpin Bundle Level 1, 2 & 3

Buy Now